Ahrefs is a very valuable SEO tool with many uses. In this quick tutorial we are going to go over finding low competition keywords with Ahrefs.
In this method you are going to use the "content explorer" feature in Ahrefs. You start the process by clicking on "content explorer" at the top of Ahrefs in your web browser.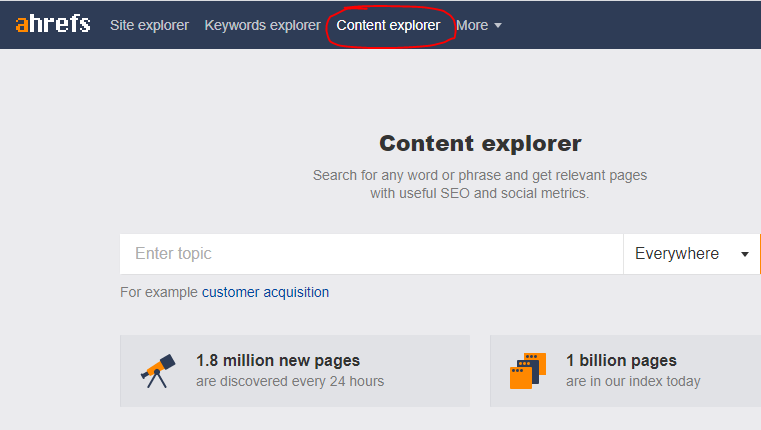 Next, you are going to enter a topic. You want to choose something in your niche, obviously. It is good to choose something broad. In the example we are going to choose Costa Rica.
Once you choose your topic you will be given search results. For our example of Costa Rica there were 2,236,583 pages found with the search. Next, we are going to comb through these results and show you how to find some low hanging fruit that we will able to rank easily for in Google.
Next, you are going to choose some filters that will help us find some pages that are getting traffic despite not having a ton of backlinks, authority, DR, etc.
So first, we are going to click the drop down under published and change it to the last 12 months. Doing this alone narrows down our pages from over two million to 902,793.
Also, you to change the language to English or whatever the chosen language is for the website you are finding content for.
Next, we are going to go to the far right and click on + Add Filter. You can find that here:
Alright, when you click +Add filter, we are going to use this to do multiple different things:
Referring Domains: If you are a newly established website, you can set this to zero. If you are confident you can outrank a website with a few backlinks, then you can set it to 3 or 5. In our example we will set it to 0.
Organic Traffic: It is up to you to deem what is a worthwhile amount of traffic to target. This depends greatly on what type of website you have. I like to set it at 500, but you could be missing out if you go that high. We are going to set this for 100 in this example so we can take a deeper dive for some real hidden gems.
Domain Rating: Again, this depends on how strong your website is. It's good to set it lower than your Domain Rating for your own website. This is a metric Ahrefs assigns to website to establish their "authority" on the web. For our example we will set it to 10.
Alright, even with these tight restrictions we were able to find eight pages that meet all of our criteria.
Next, you go through the pages and find one that is most in line with the type of content on your site. We are looking for content that is in live with the travel niche and low and behold, we found a page that is getting a great deal of traffic despite having a DR of 10 and zero referring domains:
https://www.laidbacktrip.com/posts/costa-rica-2-weeks-itinerary
If you click on details, to the far right of the website, you are able to see the exact keywords this page is ranking for.
There it is! The low hanging fruit that we were going for when we started this quest.
And here is a video of me going through the entire process:
This site is ranked #1 for various searches featuring the words "2 weeks itinerary in Costa Rica."
So now that we have this information, what do we do with it? We target these exact keywords with our website and create better content than they did. In order to do that we are going to use Surfer SEO.
Since we are based in the US, we will target the keyword: "costa rica 2 week itinerary"
This is very simple. You simply type in the search query and then select the top sites you want to stack your content up against. I simply chose the top 6 results as they are all blog posts similar to what I will be creating. And since I don't have content yet, I chose a random page that is ranking lower than the 6 at the top.
Now we have a blueprint for creating content that will stack up against the pages that are at the top of the Google results. You can see the audit by clicking here.
In the True Density report it lists all of the key phrases and words that need to be in your article. It also tells you that you need to add 9,535 words to the body of the article. The page currently has 1,321 words in the body of it. So we are looking at a piece of content over 11,000 words if we want to rank in the top five!
Additionally, we need 186 to 554 words in bold and 112-169 words in H2 to H6.
In the title we need 55 to 70 words and in the meta description we need 130 to 150 characters.
Well, 11,000 words is no easy task, but if we want to rank for this search query we have the blueprint in front of us!
What if I told you I have a travel blog where I am going to do exactly that? Stay tuned as I will be sharing the details as I take on this exact project we have lined up.